If you've met my family or saw our
Family picture post
you know who Kira is. If you didn't or you need a refresher - Kira is our sweet little 7 year old girl. She's Andy's daughter and my step daughter. She is full of personality and is a joy to have in our lives. She has so much love for everyone she meets and all of those friends and family members in her life.
This all began last month. Over Thanksgiving weekend when we were finished decorating our tree we decided to write a letter to Santa. Kira wanted to write it for herself, Andy and I. She is always so thoughtful to include us in her wish list making. That night, Andy and I learned one of the things Kira wanted for Christmas. She wrote "I want to have a pichr of my family".
We decided to probe her a little because we have a lot of pictures of our families. It's then we learned she wanted a picture of her entire family. We're talking grandparents, cousins and parents from both sides. Woah, that's a big group. We decided that might be super hard to coordinate. I asked her mom for some pictures of her side of the family so I could try to put some photos together to give Kira. However, Kira's mom and I decided to schedule a quick mini session to get Kira a picture of just "her" family - including her Mom, Dad, Step Parents (Roger and I) as well as her brother. So that's what we did.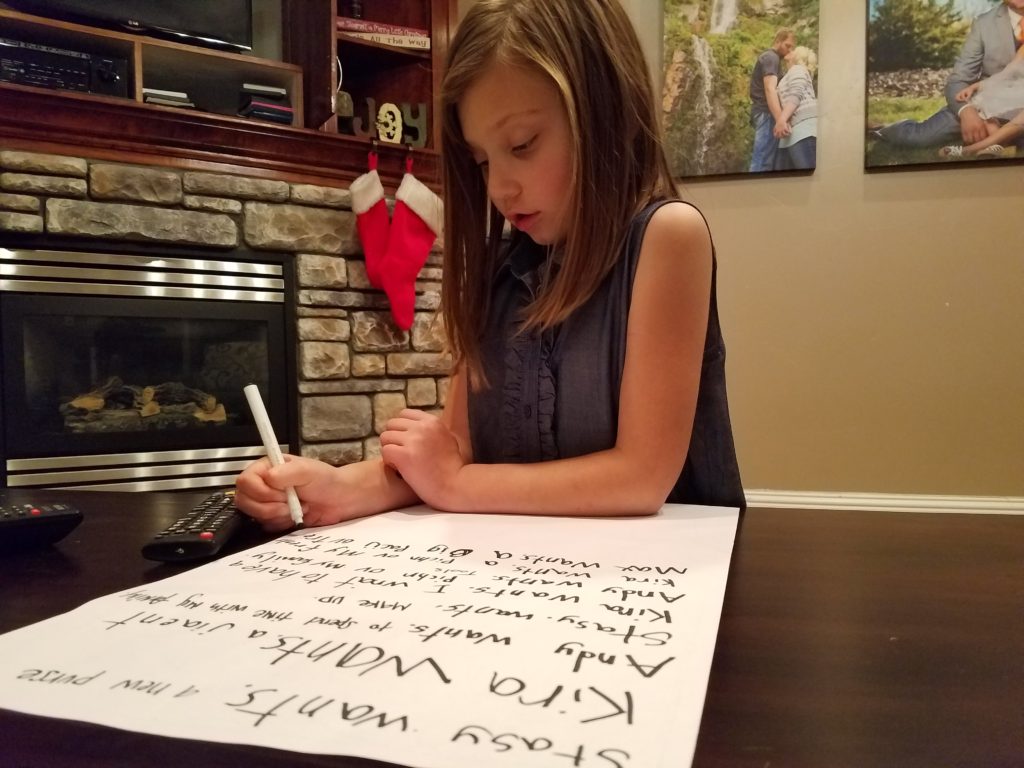 Our Session
We met up the Sunday before Christmas. It was FREEZING cold that morning. The entire weekend had been super chilly. We had decided that Black and Grey would work for everyone since it was a little last minute. I'm so glad we picked those colors so we could all wear our coats and stay warm! We met up in Logan with these awesome pine trees and the pretty frost and ice on the ground. It was slippery but we managed to not get hurt. We hired my mom to come take pictures and Misha's mom and sister to come help get the kids attention. It was a great group effort.
This session was all about Kira. This is her family. She is super lucky to be loved by so many people. She always says she's cool because she has 2 moms and 2 dads. She's right, she is cool. While no one ever plans to have a blended family, we just make it work. She's been a great sport to have two families and she is loved more than she'll ever know.
Mom's Side - Roger, Misha, and Robinton
Dad's Side - Andy and Stacey
Kira wanted a big family picture to put in her room so we printed a bunch of these photos and gave them to her, her mom & Roger, her Grandma and us for Christmas. We also made her a little accordion style book to keep at both houses. No matter which house she goes to she'll always have her family pictures there with her.
---